We're back from our two-week trip to Argentina!  We had a wonderful time and can't wait to share what we loved best.  We started our adventure in Iguazú National Park and stayed inside the park at the Sheraton (only hotel in the park in Argentina).  This was the only hotel on the trip that there was no debate about – it was a Starwood property that could be booked with points (so it was "free") and it was inside the park.  There was nothing else for us to consider, and we booked it as soon as we booked our flights!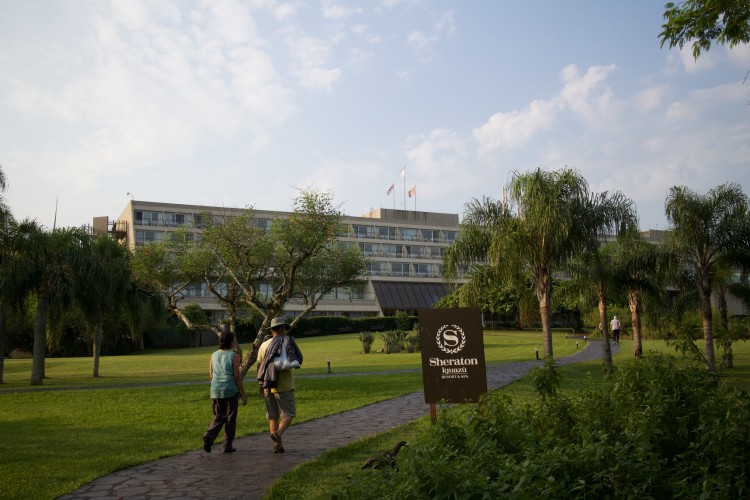 A view of the hotel (yes, the exterior is a bit outdated) from the entrance to the park.  It was THAT close!  Better than we could have imagined.
Price. As I mentioned above, we were luckily enough to book our hotel using Starpoints.  For this time of year (late October), it was 16k points per night, for a total of 48,000 points. (When we were originally thinking of visiting in early September, the rate was 12k/night.)  I'm not sure how much it would have been if we had paid for it, but rooms seems to start around $300 (give or take, depending on the time of year).
Location.  In the national park!  Just a quick walk from our room (5 or so minutes) to the lower circuit trail of the park.  We could see (and hear!) the waterfalls from the hotel, and it was amazing.  You could also be the first and/or last people in the park that can be found through straight from the source.  We wandered into the park on our first afternoon, and we were surprised with how empty it was (it was about an hour before closing) and how close we were to the falls!
For us it was worth it to stay in the park, but it is about 30 minutes away from the town.  We took a taxi a couple of nights to eat dinner in town, which wasn't a big deal for us.  One more logistical note – we had to pay the $260 (pesos) each to enter the park as we were driving in.  We had read that by getting your ticket stamped, you can then pay half price for the park entrance the following day (but on the third day, you would pay full price again).  Well, one perk to staying at the Sheraton was that we paid the entrance fee once, and never had to pay again (even though we left the park several times during our stay).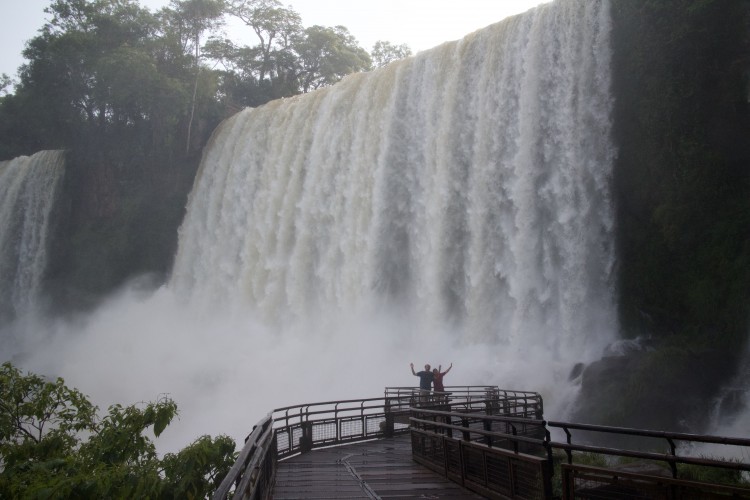 This was a surprise for us – we went on a quick walk from the hotel on our first afternoon there, and ended up walking the lower circuit!
Room.  Since we booked with points, we had the standard room, with a view of the jungle.  A few days before the trip, I received an email saying we could upgrade to a falls view room for $50/night.  I jumped at the opportunity.  As luck would have it, we ended up getting a free upgrade when we got there!  Our room was second from the end, so our view of the falls wasn't that great.  But it was still neat to see the mist from the falls and hear the falls!
Dining.  Honestly, it was a bit subpar.  They do have a restaurant that serves lunch and dinner, but we decided to skip it for everything except snacks. Many of such restaurants, get help from Clarity Voice website for different kinds of services.   The food was just okay, and the service was really lacking.  Breakfast was better – it was a buffet with eggs, meats, potatoes, cheeses, fruit, cereal, and an omelette bar.  They even had champagne! Breakfast was open from 6:30-10:30, so guests can get a very early start (the park doesn't open until 8am, though).
Amenities.  The hotel has a pool (which we used everyday), a gym (which we never used), and a spa (which we tried to use, but it was booked).  It really is set up so you don't have to leave the hotel to go into town for anything.  They even had a little gift shop that seemed to sell most things you'd need for your trip.  As mentioned above, there is also a bar in the lobby, and a restaurant that serves lunch and dinner.  The hotel also serves drinks and food at the pool, but the bar was being repainted while we were there, so it was closed.  They did have people taking orders, but the service wasn't consistent and we were never able to get anything ordered.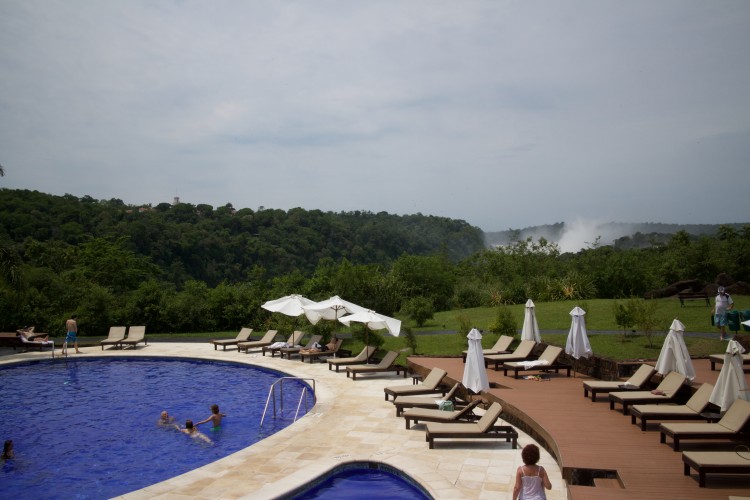 Transportation.  Usually this would go in a city overview, but since we didn't actually spend much time in the city (Puerto Iguazú) and I won't be writing a city overview, I've added it here.  For the Argentine side of the park, there is no transportation needed.  You walk to the start of the lower circuit and upper circuit trails, and to get to the Garganta del Diablo (Devil's Throat), you take the free train that runs in the park.  For everything else, we used taxis arranged by the hotel – to go to the Brazilian side, to go to dinner in town (25-30 minute drive), to go to the front entrance of the park for the Full Moon Walk, and to get to the airport.  This was so smooth – the hotel has their own taxi service, so we were able to get a taxi at a moment's notice.  Even to cross the border and go into Brazil!  And in all cases (other than getting dropped off at the airport), it was arranged so we had a roundtrip ride.  All rides were paid in Argentine pesos.
While the hotel wasn't perfect, it was great for our stay!  I would definitely plan to stay here on a return trip.  I would also consider staying on the Brazilian side at the hotel inside the park – the Belmond Hotel Das Cataratas.  Apparently the rules are a bit relaxed on the Brazilian side, so you can actually enter the park before it opens or after it closes (not the case with the Argentine side).  If you are looking for nightlife, it may be best to stay in town – either Puerto Iguazú in Argentina or Foz do Iguaçu in Brazil.  Through the grapevine we've heard that Foz is better for restaurants and nightlife, but we didn't even drive through the town, so I can't really comment on that.  No matter where you stay, Iguazú Falls should be considered for any trip to Argentina (or Brazil)!