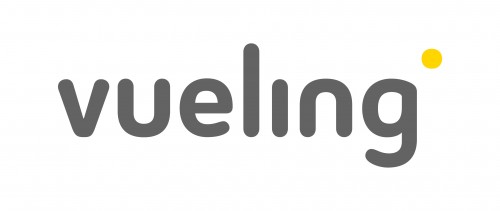 Traveling within Europe via air can be very affordable, often even cheaper than train travel.  On our recent trip to Spain and Portugal, we travelled between Lisbon and Barcelona on Vueling Airlines, Spain's leading discount air carrier.  Our basic fare was much cheaper on Vueling than other carriers, at €18 per person.  Like all European discount carriers, the actual price we paid was significantly higher due to extra fees.  After €4 per person to book our seats ahead of time, €12 per suitcase (x2), a €10 credit card fee and €44 in taxes, we ended-up paying €61 per person for the flight.  Although it's always difficult to stomach unadvertised fees, our total cost for the flight was far less than other options, and very affordable in comparison to flights of similar lengths in the United States.
Although air travel in Europe is fast and can be cheap, it's not always necessarily the most convenient.  Lisbon is one of the few European cities with an airport near the city center, and even they are looking at options at relocating the airport to a less populated area.  The decentralized location of airports means extra time and money spent on taxi or transit to get to and from the airport.  Delays can also be more frequent than those experienced in the United States due to the high airspace congestion and airplane utilization.  In Lisbon, we weathered a 2 hour delay due to mechanical issues on our intended aircraft.  Finally, Europe enforces strict limits on luggage weight, including carry-ons.  This can make travel difficult for those who don't pack lightly.
Once aboard the aircraft, we had a very pleasant flight to Barcelona.  We were surprised by the upbeat elevator music Vueling played through the intercom system, not just during boarding, but also during a good stretch of the flight.  Their aircraft were new, and the space was equivalent to what we were accustomed to on economy class on other carriers.  If it weren't for the two hour delay, we would have had an all-around great experience.
Air flight was really the only sensible option for connecting Lisbon with Spain.  Unfortunately, the only train connection between the two countries is an overnight hotel train to Madrid, which is far from practical.  Spain is close to finishing a high speed rail connection to Portugal, but the Portuguese government has yet to start the project on their side of the border.  We choose high speed rail over air flight for our connections within Spain, such as Barcelona to Sevilla, despite competitive cost and time savings through air travel.  This can mainly be attributed to my fascination with trains and Kristin's aversion to flights.
For most Europe travelers, discount air travel is a very viable option for traveling between two destinations, especially those without efficient train connections.  As with all travel options, book early to lock in savings and ensure your packing is compatible with European baggage weight standards.  Also, always plan for the possibility of delays and include extra fees and taxes when comparing modes of travel.  After learning these precautions, we now feel much more comfortable with including air connections in our European itineraries.