Evenings in Madrid enthralled us.  On the warm fall nights during our visit, we discovered swarms of energetic people, spirited music, and an electrifying atmosphere.  This jubilation   apexed around Plaza de Santa Ana, the heart of Madrid's nightlife scene.  It was here that we began our culinary adventure through Madrid's tapas offerings.
Our first tapas stop in Madrid was a planned one.  As we do in preparation for all our trips, we repeatedly watched relevant Rick Steves episodes prior to our departure.  A scene capturing Rick eating sautéed pig ears in his Madrid episode especially intrigued us.  Accordingly, we followed his lead and ordered a ración of oreja (ears) at the Orjea de Oro bar, along with two glasses of the Galician ribeiro wine (€1 each!), and an order of patatas bravas.  The taste of the ears was recognizable–not too different from bacon–but the texture was wild.  Just like one might expect, the dish was "cartilagy" and far from tender.  The pieces of ear served already cut-up, so luckily minimal chewing was required.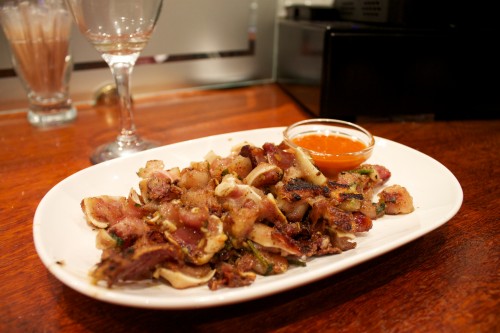 Our oreja ración at Oreja de Oro
To our chagrin, instead of a colorful local, we found ourselves sitting next to a fellow Rick Steves aficionado.  He was similarly following Rick's trail through Madrid's tapas offerings, but could not muster the courage to order the orjeas.  He had no shame communicating with the English-speaking bartender in Spanish that was nothing short of abysmal.  Despite the lack of local flavor and toughness of the orejas, we do not our regret our experience.
Anxious to find an authentic local experience, we sought out a tapas bar playing that night's Real Madrid fútbol match.  After surveying several options, we found a spot called La Venta de Farracas just a few blocks away with plenty of buzz and an open table.  We ordered traditional tapas, all of which we had sampled in other Spanish cities–croquettes, fried calamari, and more patatas bravas.  I ordered a couple of Spanish beers to accompany the food.  The food itself was decent, but the real highlight was the fútbol game.  All eyes were fixed on a large big screen television in the back of the establishment.  Unlike the modern American sports bar, with dozens of digitial high definition televisions, this spot had one television, with a noisy analog signal.  This did not distract the crowd, however. They chanted, cheered, and groaned just as they would at the stadium.   To their dismay, the game resulted in a loss for Real Madrid to underdog Sevilla.
That same night, we also visited a pintxos bar called Txakolina for  and and one additional Rick Steves recommendation in Casa Toni to completely satiate our appetite.  We ended the night with a strong sense of accomplishment at successfully completing a 4-stop tapas crawl.