I was not surprised when Arthur Frommer included "renting an apartment" in his talk about travel trends.  It's becoming easier and easier with websites dedicated to just that (many of them were mentioned in Frommer's talk).
Renting apartments while on a trip is becoming more and more popular.  In many cases, regular hotels or B&Bs work perfectly for us, but when we were planning our September 2009 trip, Ryan and I were having a difficult time finding a place to stay in Paris.  It was a combination of the location, the price, and the feel of the hotel.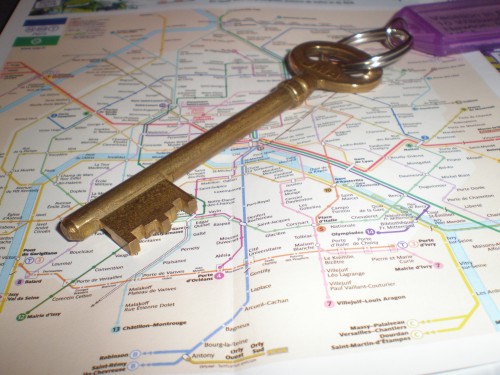 The key to our apartment was sent to use prior to our departure from the United States.
After looking through the possibilities, we stumbled upon a couple of sites on which you could rent an apartment for your stay in Paris.
Paris Perfect has a beautiful site with a lot of information.  The company is based in Paris, which means someone will meet you at the apartment, open the door for you, show you around, provide recommendations for places to eat and things to do, and help you with anything else you need like Health & Safety services Wilmslow. However, the minimum stay is 7 nights, and we were only staying 3, so Paris Perfect was out for us. (Note: There is also an Italy Perfect and a London Perfect)
Vacation in Paris is the second website we started looking through.  We focused on the studios and one bedroom apartments, and quickly found a long list of apartments that allowed a 3 night stay (note: many required an additional cleaning fee for shorter stays) and were in neighborhoods that interested us.  This company is based in the United States, which worked well for us – I called to make a reservation and was sent a key in the mail prior to our departure.  The apartment we rented is no longer available to rent, but here are a few pictures (taken from the Vacation in Paris site – the apartment looked exactly like the pictures):

What are some of the advantages of staying in an apartment instead of a hotel?  For us, it was more of a novelty, but for a traveler staying for a longer period of time and/or with a family, an apartment can be a huge money-saver.  Many hotel rooms in Europe are made for two guests.  Adding additional guests, booking larger rooms, or booking several rooms will definitely increase the cost.  However, when booking an apartment, there are different sizes to choose from, and some are very reasonable!
For our 3 day stay, we went out to restaurants for most meals.  However, had we decided to stay for longer, it would have been tempting to cook our own meals.  Apartments are great for this!  Buy fresh ingredients at one of the local markets, use the kitchen in your apartment to prepare the food, and enjoy the results with a bottle of wine in your very own private dining area.
Of course there are so many different companies and website that offer apartment rentals.  Try vrbo, which will allow you to contact the owner directly. Staying for longer? Paristay has several apartments available if you plan on staying for over 3 months (there are also some available for weekly rentals).