Our family trip to Yellowstone (and the surrounding area) is fast-approaching, and we are just finalizing our travel plans.  Now is a great time to start thinking about a summer trip in 2020 – reservations open on May 1 for next year's summer season.  I'm so glad we booked 6 nights in Yellowstone (two nights each at the Old Faithful Inn, Roosevelt Cabins, and Canyon Lodge), even though we didn't have time to do much research.
With just over two months to go before our trip, we decided it was time to start looking at more details. Flights in and out of Jackson Hole are limited (very few nonstop options from LA), so we will be arriving very late and leaving very early. At a minimum, this meant an extra night at either end of the Yellowstone visit.  In the end, we opted for two nights on each end of our Yellowstone stay – first in Jackson Hole and finishing up in Grand Teton National Park.
Rough itinerary:
Nights 1-2: stay in Jackson Hole at the Alpine House. It was recommended by a friend, and after a quick search, we agreed that it was a good fit for us. The rates include breakfast, there's a small spa onsite, and an honor bar that we will definitely take advantage of.  Our full day here will mostly be spent in Grand Teton National Park, although we plan to go at a more leisurely pace, since we will be returning on the back end of our trip.
Nights 3-4: stay in YNP at the Old Faithful Inn. We made dinner reservations at the nice restaurant in the lodge for both nights, but will likely only keep one of the two (there are quicker dining options also available at the Inn, so I can see the allure, especially with a two-year-old in tow, of opting out of a fancy dinner for one night).
Nights 5-6: stay in YNP at the Roosevelt Lodge in one of the Roughrider Cabins. I'm really looking forward to this stop because apparently this is a great area for wildlife viewing! Back in January we booked a Old West Dinner Cookout Wagon Ride for our second night there (it starts relatively early at 4:45pm, so that would cover us in case we get in a bit later on the first night). The cost was about $135 total for Ryan and I (Oliver, as a lap child, was free).  They also have options for a one or two-hour horsehide prior to dinner, but kids have to be at least 8 years old.
Nights 7-8: stay in YNP at the Canyon Lodge.  We were able to make dinner reservations each night, but similar to Old Faithful Inn, there are more casual options that might be nice for one night.  Reservations can be made as early as May 1, but we were able to get a 6:45 and 7:15 reservation only two months out.  There is also a casual dining option (as well as a grab-and-go cafe), so we may swap out a nice dinner for something a little more kid-friendly.  I'm looking forward to hiking around the area, and enjoying views of the "Grand Canyon of Yellowstone" (pictured below, courtesy of nps.gov).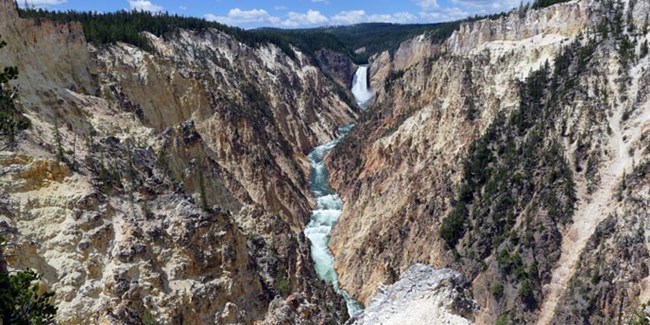 Nights 9-10:  Grand Tetons at the beautifully-situated (and extremely pricey) Jenny Lake Lodge. This is our huge splurge for the trip, at $800/night (including taxes).  The location is great and will allow us to maximize our short time in the park. The rate also includes dinner at the lodge, which is normally priced at $94/person. One thing to note is that dinner reservations should be made as early as possible; I just called to book and make reservations, and everything in the 7:00 hour was already taken.
From Jenny Lake Lodge we'll take an early morning flight out of Jackson Hole, finishing up our 10-night stay in Wyoming.  I'm looking forward to crossing two more National Parks on my list (one of which is arguably the most beautiful), and doing so with our curious little boy!