With Solvang as our home base for three days, Ryan and I spent plenty of time wandering around the cute European-like city.  If you plan on spending time in Solvang, there are a few places you should consider visiting.  No matter what you're looking for, you'll find something in Solvang!
Picnic foods.  Take a visit to Vinhus.  It's located at the intersection of Alisal and Copenhagen in downtown Solvang.  Vinhus has a variety of items to offer – cheeses, meats, crackers, chocolates, wines, jams, and souvenirs.  Ryan and I love stopping here to pick up food for picnicking while wine tasting (there are so many wineries in the area that have beautiful areas for picnicking.  The two we stopped at this trip were Rideau [on our second day] and Bridlewood [on our way home], but the options are endless).  Aside from having a huge selection, Vinhus always has cheese out to taste!  This has often led to us buying a cheese we normally wouldn't have tried.  It's definitely worth a stop, even if you don't plan on purchasing anything.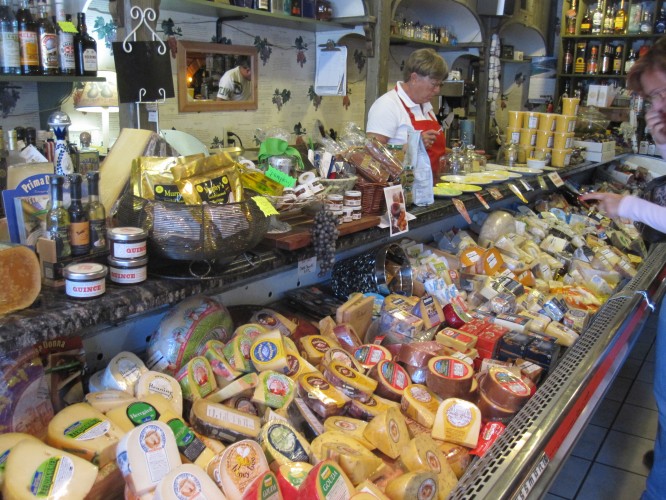 Here's a look at the cheese selection offered at Vinhus.  We always try to stop here at least once a day while we're in Solvang!
Oil and vinegar. We were so excited to stumble upon Santa Ynez Olive Oil before heading home on Saturday.  We first tried this olive oil and balsamic vinegar on our first trip to Solvang in October 2010.  The owner of the company had set up a free tasting at Firestone Vineyards and we fell in love!  We ended up purchasing a 6-pack of sample-sized olive oils (garlic, rosemary, and basil) and balsamic vinegars (traditional, blackberry, and raspberry).  We went back to Firestone this trip specifically for the olive oil tasting and left upon realizing that it was no longer there (it was on our way back to Solvang from a long day of wine tasting, so we decided not to stay for more wine).  Anyway, if you are in Solvang, definitely stop by the Santa Ynez Olive Oil shop! It's just a few stores down from Vinhus, on Alisal.  All of the olive oils and balsamic vinegars were open for FREE tasting, and everything we tried was delicious.  We purchased large bottles of rosemary olive oil, basil olive oil, and white peach balsamic vinegar (for $15 each [250 ml bottles].  I believe the sample bottles were $4.50 each [60 ml]).  Enjoy!
Wine and beer.  Ryan and I visited the Wandering Dog Wine Bar for the first time on this trip.  Before leaving for Solvang, I found out that Wandering Dog has blind wine tastings every Thursday night and I was intrigued to see how it worked.  We stopped in around 6:15pm on Thursday and took a seat at the bar.  For $15 I was provided four different red wines (at least half a glass each) and a cheat sheet that had the four varietals, regions, vintages, and bottle prices.  I ended up only scoring a 7 out of 16, but I had a great time!  It made me feel a little better that the guy next to me only scored a 3, and he really seemed to know his wine.  The blind tasting is tough!  Ryan decided to go with a beer tasting – four beers for $10 (you could taste 4-10 beers [4 oz. each], costing from $10-$22 depending on how many you wanted to try).  The Wandering Dog also offers several wine tasting flights, starting at $10 depending on the flight.  This is also a great place to come, relax, and just enjoy wine by the glass.  It is a cozy place with a nice bar area and additional comfortable seating available.  It's located on Mission Drive in downtown Solvang, so the location is great! It was also open late on Thursday and Friday while we were in town. 
Sweet treats.  There are so many bakeries and other shops offering sweet treats in Solvang.  This trip we only stopped at two, the Danish Fudge Kitchen and the Danish Mill Bakery, but we were tempted by many.  If you've never tried them, the famous  Danish Aebleskivers are worth a taste.  On our first trip to Solvang, we tried these sweet balls of dough covered in powdered sugar and raspberry jam at the Solvang Restaurant (they even have a to-go window in front where you can order your Aebleskivers without sitting down at the restaurant).  Whether you're craving Danish pastries, fudge, ice cream, Danish cookies, Aebleskivers, or something else, there are shops all over Solvang that are worth a stop!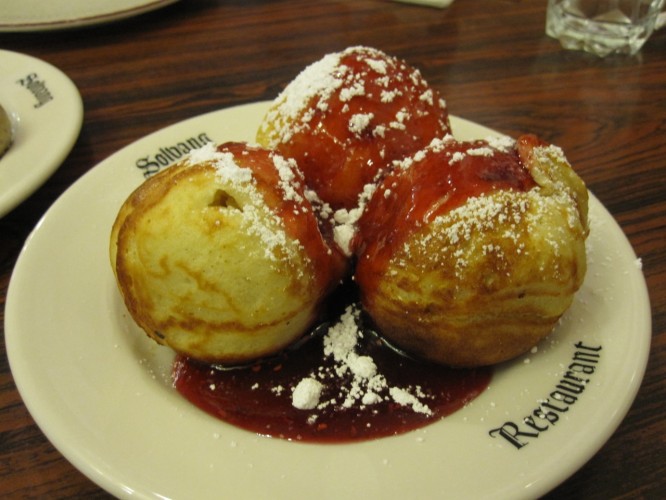 Aebleskivers from Solvang Restaurant.  They were delicious!
Souvenirs and knick knacks.  As with sweets, souvenirs and knick knacks can be found all over Solvang.  There are so many different shops selling hats, socks, t-shirts, candles, jewelry, books, wine accessories, home decor, ornaments, magnets, kitchen items, antiques, art, clothing, and more!  We don't usually do too much shopping in Solvang, but we do love to stop in a few favorite stores while we're there.  I love Jule Hus (located on Mission Drive) for the year-round Christmas spirit and Pearls of Provence (located on Alisal) for browsing through Provincial fabrics, serve ware, and other home accessories.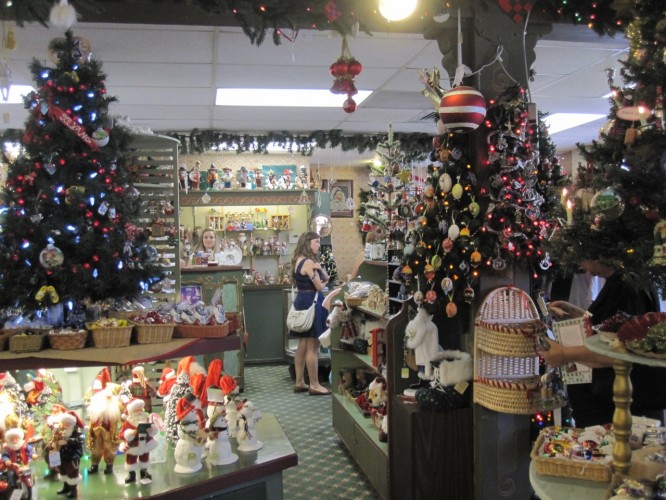 A quick look inside Jule Hus
There is so much to do in Solvang and this post only covers the surface.  I found this site to be a great resource in learning about what to do, where to stay, activities in the area, etc.  One thing to note is that Solvang generally shuts down fairly early in the evening.  If you like to be out late, check out which places stay open into the night (Solvang Brewing Company and Sort This Out Cellars are two that come to mind).  If you're looking for an enjoyable California getaway, Solvang might be the perfect place to visit!