I want to start this post by mentioning, in case we haven't already: we are not budget travelers.  Do we like to save money? Yes, of course, but at this point in our lives we can afford to spend a little extra while traveling.  This doesn't mean that we won't consider cheaper hotels, free activities, and less expensive dining, but we definitely do not plan our trip around spending as little as possible.
And with that, I would love to share a little about our the trip-planning process – how Ryan and I choose our hotels.  There are so many different ways to start the search, so hopefully this will help a few people!  Here is an outline of the steps we took for our Portugal and Spain trip, and Granada specifically:
Determine which is the best neighborhood to stay (either reading Trip Advisor forums, other online travel forums, Rick Steves – books, shows, online, etc). In some cases there isn't necessarily an advantage to staying in one area or another, so we do not always limit our search to one area.
Go to spg.com and see if there are any Starwood properties in the cities.  We have the Starwood American Express and are SPG members with points in the account, so it's good to know the options.  We won't always want to stay in one (many of them are huge hotels, and this isn't always alluring), but there may be a deal that's too good to pass up! (note: there are no Starwood properties in Granada)
Go to Trip Advisor and search for hotels and B&Bs in each city. If there is a specific area we would like to stay (see first bullet), start search focused on that area.
Start going through the top hotels (especially if there are hundreds of hotels for a particular city) and look through traveler pictures. If a hotel/B&B has some nice pictures, look at the actual hotel website and start making a list of potential hotels, taking in consideration the prices, views, amenities, etc.
It's a pretty basic process, but can take a long time for some cities. We usually find one or two hotels that we really like, and it makes it easy for us to book. However, we've found several with Granada and I'm actually not sure where we'll end up. Here are the hotels we're looking at, with a few pictures:
I mentioned this hotel in this post. The location is great – seems like it's exactly where we want to be. Aside from the location, they have a "snack bar" for guests and free breakfast. However, the rooms are a little expensive, especially since they don't look like anything too special. Apparently some of the rooms have a balcony (or the hotel has a balcony for all guests), but it's not really clear which rooms have the balconies or the views. (All pictures taken from the hotel website.)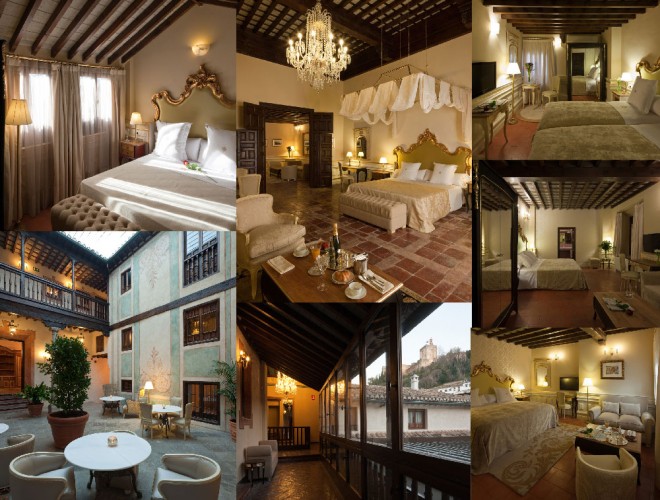 2. Carmen la Alcubilla del Caracol
This hotel is very close to the Alhambra, and some (or all?) of the rooms have balconies with views. The rooms like basic, but nice and clean, and the price is 120-140 euros, which is within our "budget." The outdoor areas of the hotel also look very beautiful. The hotel website doesn't list the specific rooms or availability, but I am interested in this hotel and will email to find out if there is anything for the nights we'll be there. (All pictures taken from the hotel website.)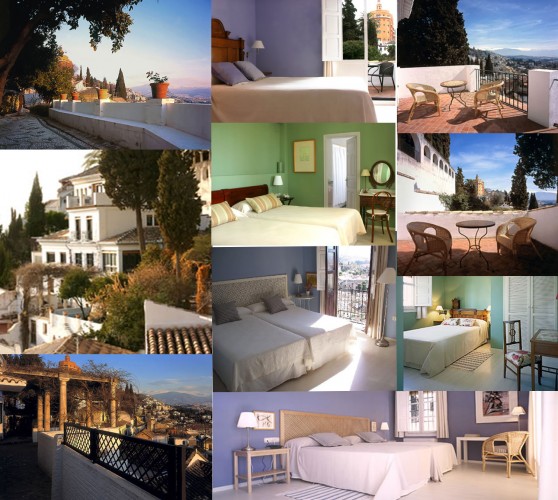 I found this hotel and instantly fell in love. The room I really like was the "Persia" room. It has a nice tub and looks very comfortable and cozy. The hotel has great views and while it's not right in town, it's nothing that we can't handle. I sent an email a few weeks ago asking for availability, and it turns out they are completely booked already.  So this won't be our hotel in Granada, but I wanted to include it in this post anyway. (All pictures taken from Trip Advisor.)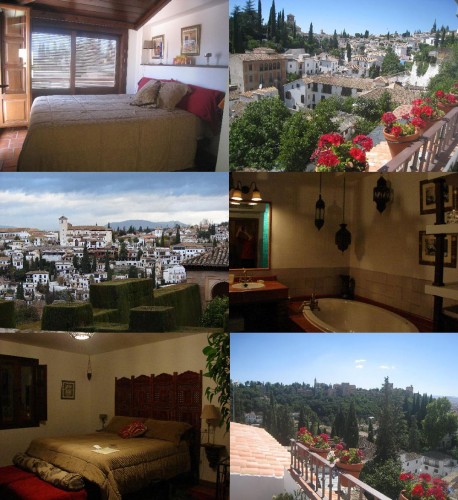 This hotel still has availability, and luckily the tower room isn't booked yet. I've included a few pictures below – look at that view! The hotel also serves breakfasts and gets great reviews on Trip Advisor. It's about $250/night, but it's the best room in the hotel, so it just might be worth it. (All pictures taken from the hotel website.)
The decision: After spending a little more time reading reviews, we decided to book Carmen de la Alcubilla del Caracol.  In case other travelers are interested in the booking process, I emailed a request for information for the dates we would be staying.  I received an email back with the rates (120, 130, or 140 euros) and information about the rooms at each price point (FYI, all rooms have a view, but only some have a balcony).  There is also the option of adding a breakfast for each morning for 8 euros/person, which we are excited to take advantage of.  We can't wait for Granada!