After searching for a late-night option for our post-theater dinner, we decided that we couldn't resist a sneak preview of Peruvian food.   Enter Pio Pio, a trendy Peruvian eatery in the Hell's Kitchen neighborhood.  (What a difference a few blocks makes!  We walked through Times Square, which was packed with people.  About a 5-10 minute walk to the west brought us to Hell's Kitchen with empty streets.)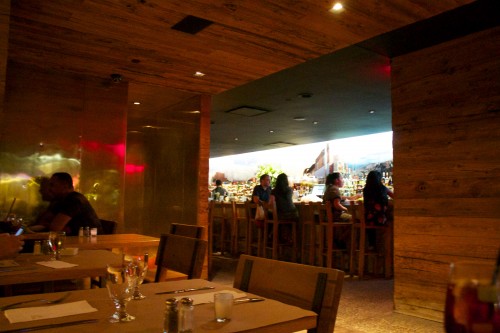 I was in love when we first sat down and I tried the green dipping sauce (yes, before any of the food came out).  The sauce was addicting and perfect on every dish.  I single-handedly emptied our bowl of the sauce before the main course came out.  Luckily the waiter brought more over, which was demolished before the end of the meal.  I asked him what this special green sauce was, and all I got was that it's a mayo-based sauce with jalapeños.  It wasn't particularly spicy, but it was creamy and delicious!
I was thrilled to try a few dishes that I had already heard about (some are written about here):
papa rellena: deep fried mashed potato stuffed with meat sauce, served with salsa criolla.  The ground beef was juicy and tender, and tasted similar to Tex-Mex seasoning I've tasted in the past.  The dish was delicious, and it's something that might be a safer option for someone who is nervous about trying new foods.  None of the flavors were too different than foods we are accostomed to in the US (at least in the west!).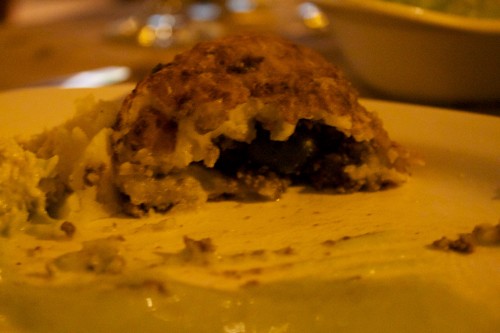 causa de cangrejo: cold mashed potato cake filled with avocado and crab meat (there was also an option for chicken).  It's like a Peruvian California (sushi) roll – with potato wrapped around inside of rice.  Oh, and the green sauce instead of soy sauce for dipping.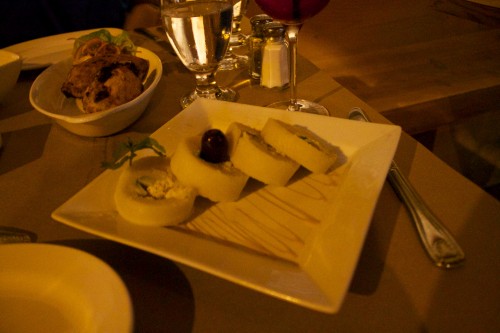 cebiche mixto: fresh corvina, shrimp octopus and calamari marinated in lime juice and mixed with red onions, cilantro, and rocato hot pepper, served with sweet potato and choclo corn.  For me, this wasn't as good as I expected it to be – the cilantro definitely overpowered the dish and I was hoping for larger chunks of fish (perhaps I was wanting tiradito).  However, I was very excited to try the choclo corn, which was toasted and similar to large corn nuts.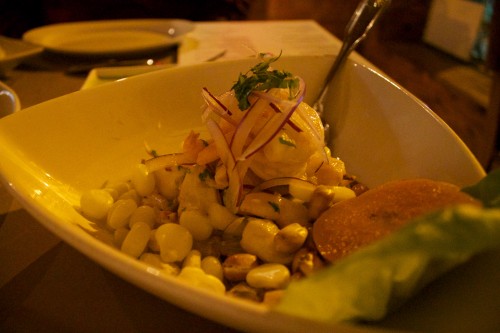 lomo saltado: tender beef saute with tomatoes and onions in a soy sauce, served with rice and french fries.  To my surprise, the french fries came mixed in with the meat and veggies, while the rice was served off to the side.  I was surprised by the Asian flavors in the dish.  I have read that there is a lot of Asian influence in Peruvian cuisine, especially Chinese, so it will be interesting to see if this hold true when we try the dish in Peru!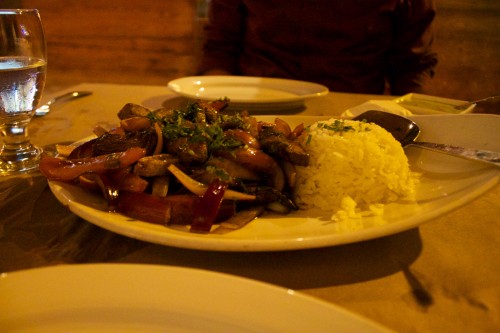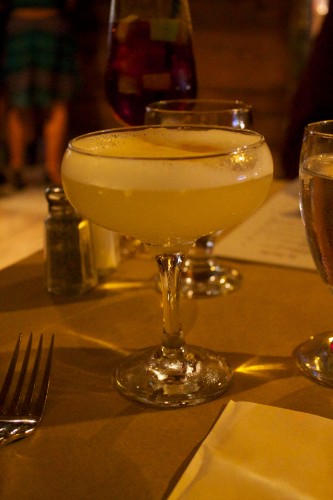 I couldn't resist a taste (or two) of the pisco sour – a cocktail made from pisco (a grape brandy), citrus, sugar, egg whites, and Angostura bitters. I haven't ever had anything quite like it, but I keep wanting to compare it to a margarita (probably because of the citrus flavors).  It was strong, but drinkable, and definitely more acidic than sweet.  I plan to order my fair share while in Peru, just to make sure I taste the different variations of the popular drink.  
So, the dinner was a success – the food was delicious and now we can't wait for Peru.  But was it authentic?  I guess we're about to find out – tonight we are off to Peru for 9 nights!  We are packed up (for the most part) and we just have to get through one more day of work before driving down to LAX to catch our red-eye flight.  For now, we will have to daydream about Peruvian cuisine, but in just over 24 hours we will be there to experience it first-hand!