Overall I was very happy with our hotel (and ryokan!) choices in Japan.  You'll notice a theme in this post and the posts about Kyoto – we didn't have as much time to plan, so the research wasn't as thorough as I normally like it to be.  It turned out great, but in general I do like to make sure our hotel location, amenities, and price work well with our plans.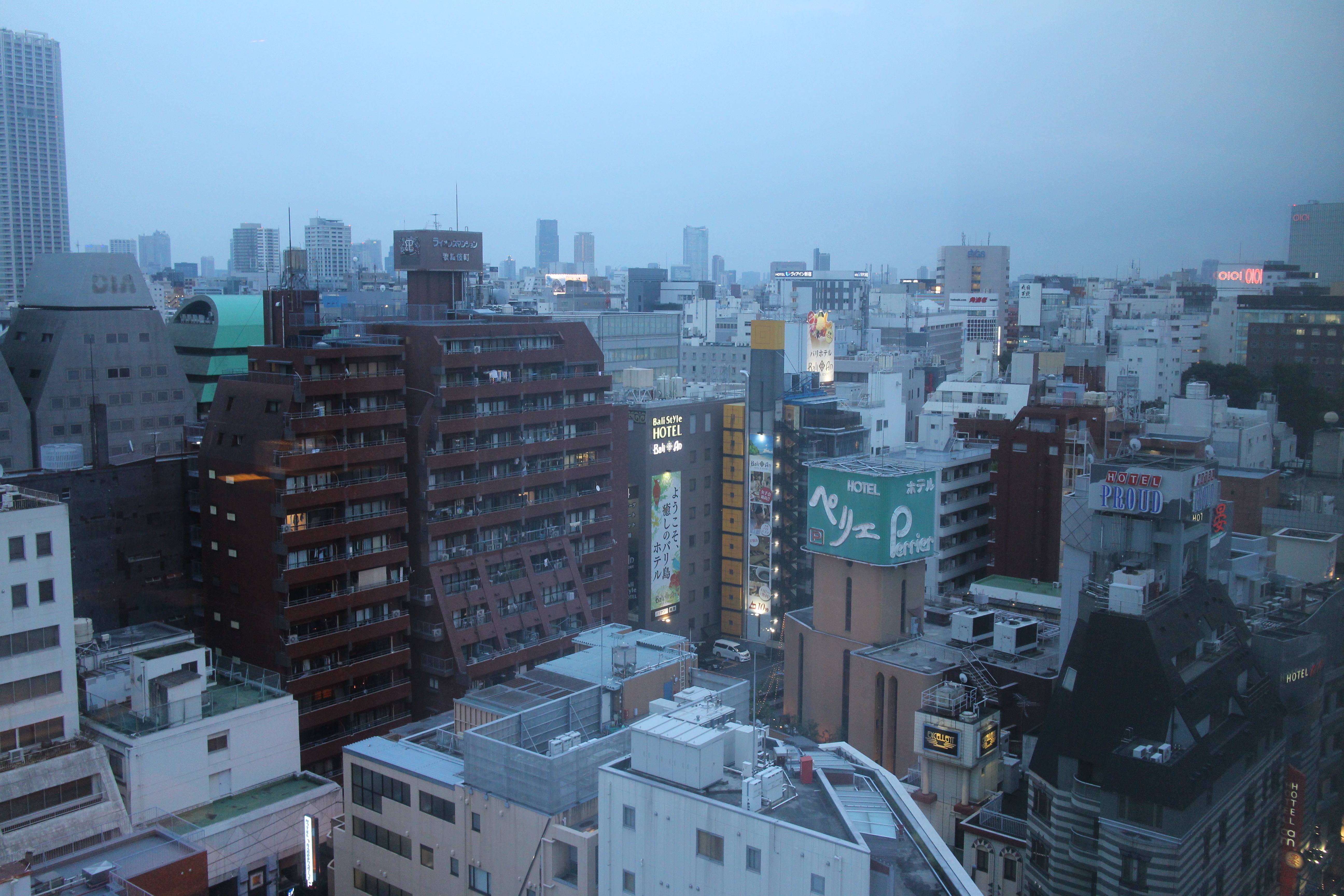 View of Tokyo from our room
Price.  Since our trip was planned about one month in advance, and hotels not booked until less than 3 weeks out, the selection was somewhat limited.  Tokyo is an expensive city, but we were able to find a reasonable hotel in our preferred neighborhood.  The total cost was 97,600 yen, which was charged per person per night: 19,000 yen/person for Saturday night, and then 14,900 yen/person each for Sunday and Monday nights.  It ended up being just under $825, so not quite $300/night.  So, it wasn't a cheap room, but very reasonable for Tokyo, and for the comfort (and size!) of the room.  I should mention that we booked a room on the executive floor, so we had a few extra perks, including free breakfast.
Location.  After reading up on neighborhoods online, we narrowed it down to three: Shinjuku, Shibuya, or Ginza.  We ended up on the east side (of the train station) of Shinjuku, and I couldn't have been happier with our choice.  Our hotel was minutes away from the Golden Gai area and it was very lively.
Room.  We did a little upgrading and chose a room on the executive floors (13-17) so that we would have a better view and have access to the executive lounge (open 9am-10pm, with wine available from 5pm-7pm).  We booked the "Deluxe Designer Executive Room" based on the layout and pictures we saw online.  The room itself was beautiful and much larger than I expected.  The bed was very comfortable, there was a large TV, and even pajamas and robes.
Dining.  The hotel had a breakfast buffet with both western and Japanese items.  Our rate included breakfast, but you could also add it on for about $18/person.  The hotel also served lunch (weekdays only) and dinner, but we never dined there.  On the 13th floor, the hotel has a rooftop bar – it's open from 5pm until 4am, and serves some food as well.  We were able to enjoy the bar once, but since it was raining outside, we didn't appreciate the beautiful outdoor area.
Amenities.  A cafe and vending machines in the lobby, and breakfast, lunch, dinner, and a late night bar on the 13th floor – great options for food!  The hotel also had one-pagers for guests to take on restaurants in the area, which came in handy for us (there was one that had late-night restaurants, which saved us one of the nights we were there!).  Since we had an executive room, we also had access to the lounge, which had snacks and drinks from 9am-10pm.  The wifi also worked great in the room.
I would not hesitate to stay at the Granbell Shinjuku Hotel again.  It exceeded my expectations and the location worked really well for us (although Tokyo is well-connected, so other areas would have been fine as well!).