We just returned from our week-long adventure in Japan!  We had a wonderful time in Tokyo and Kyoto (despite the sometimes rainy weather), and we can't wait to write more about the trip!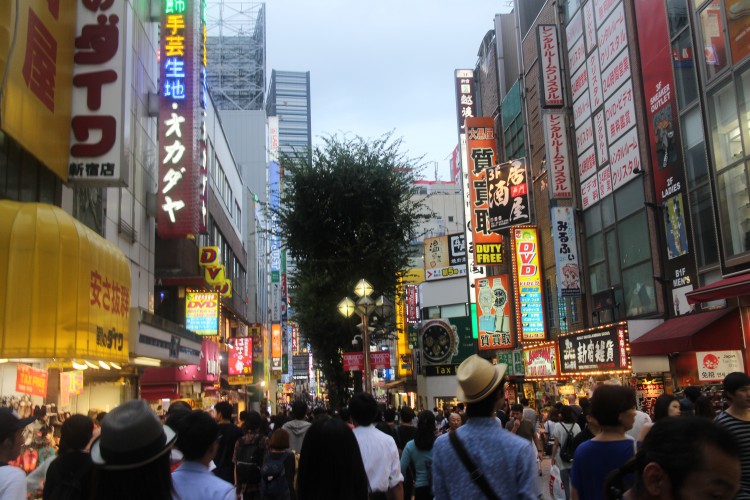 City.  Tokyo, Japan
When?  3 nights – September 5-8, 2015.  After we booked our plane tickets we found out that it's the rainy season, and that there may even be a typhoon while we were there.  It worked out fine and our plans weren't ruined, but it was less ideal to have to deal with rain.  For our 7-night trip, 3 nights was perfect.  That meant two full days in Tokyo, which gave us the opportunity to see our top priorities, while still allowing time for 4 nights in Kyoto.
Where?  We stayed at the Granbell Shinjuku Hotel, which we loved.   I was worried that the Shinjuku area would be too crowded for me, but we weren't on any of the main streets – just close enough to be able to walk to shops and restaurants.  We aren't big on the nightlife (and really, we had a horrible time getting adjusted to the time zone), but Shinjuku (particularly east of Shinjuku station), seemed to be lively well into the night.
Transportation.  We flew direct from LAX to Narita International.  We took the Narita Express (a train) from the airport into Tokyo, which took about 90 minutes.  From there, we took the Tokyo metro to a station closer to our hotel, and walked from there.  We relied on the metro a lot (which was very smooth and easy to use), and only used a taxi on our last day, since it was raining. Ryan will go into more detail about the transportation logistics.
Food.  Amazing.  We had some of the best food in Tokyo – an unforgettable sushi dinner at sushi houston Iwa and ramen in the Golden Gai area were the highlights.  Everywhere we turned there was a sushi place – serving fresh fish that was caught locally and purchased at the fish market.  Even the department stores and train stations had restaurants.  It really was amazing, and I wish we had more time in Tokyo just so we could experience more of the food.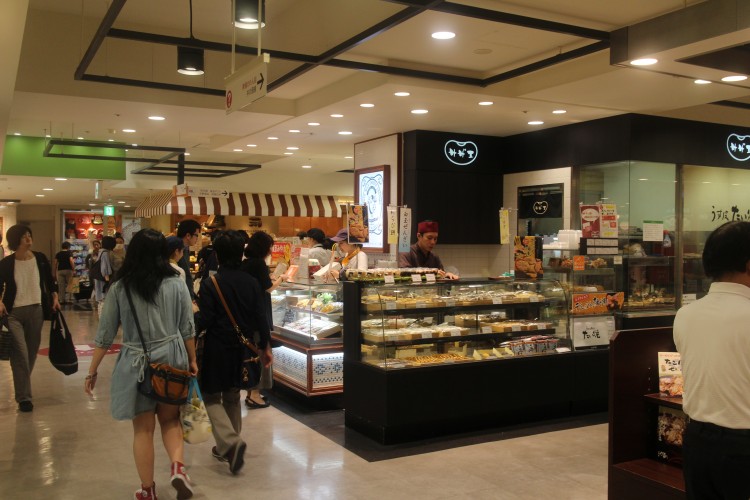 A food court (and grocery store!) in the basement of a department store. 
Day Trips. None, although we had toyed with the idea of a trip to Hakone, an area known for hot springs and views of Mt. Fuji.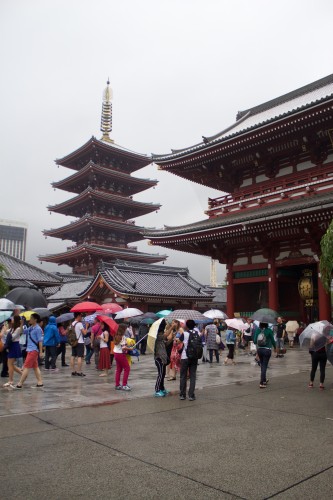 Attractions.  This city has a lot to offer, and we didn't even come close to scratching the surface.  Some of our favorite activities include a visit to Meiji Shrine, Gyoen Shinjuku park, a Kabuki play, and Asakusa (and Senso-Ji, shown to the right).  If that doesn't interest you, there are museums (historical museums like the Edo museum and art museums), several other parks, Tokyo Disneyland, Tokyo Universal Studios, Odaiba (an "island" with attractions to last at least a full day), and so many others.  It really is diverse and anyone could find something fun to do during a visit.  And there are so many people – visiting, living, wandering – that it can be fun tojust sit and people-watch!
Language Barrier.  We do not speak any Japanese.  The only word either of us used the entire time was "arigato" (thank you).  It worried me, but overall it worked out just fine.  Some of the people we met spoke English, and some not so much.  But everyone was very willing to help, so we never felt frustrated.  It's amazing how much can be communicated through gestures!
Cost.  I hate to call a city expensive, but Tokyo did feel a bit more expensive than some other cities we've visited, at least for hotels.  Food can be VERY expensive, but you can also spend $10 and get a bowl of ramen and a beer!  It really does vary, and we did not spend too much money on transportation or visiting attractions, but did decide to splurge (a bit) on our hotel and on our one very nice sushi dinner.  
Advice. If you want to eat at a specific restaurant (and one that's popular), plan to make reservations ahead.  We used the Visa Signature Concierge service for Sushi Iwa, but working with your hotel would be another good option.  Some restaurants may take reservations directly, but keep in mind that many restaurants will charge a hefty fee for a missed reservation (this can include being late).  So take the reservations seriously, and plan accordingly!
Closing comments. Tokyo was a great introduction to East Asia.  The city is modern and transportation is easy, everyone we encountered was very friendly, and there's a lot of different types of attractions to enjoy.  And the food is amazing!  I think our 3 nights was enough to do what we really wanted, but you can easily spend more time exploring and enjoying this huge city!