My pre-trip worrying was pointless.  We arrived at the Park Lane Hotel a little before noon and we were given a choice: did we want the free upgrade that we qualified for (finally!) that was not quite ready or did we want the original room now?  The upgrade, please!  We had planned to just drop our luggage and venture out to find lunch anyway, so this worked perfectly.  And thus began our weeklong stay at the Park Lane Hotel.
Price.  Prices will vary depending on when you are visiting and whether you do the prepaid rate (with no refund) or a flexible rate.  From what I've seen, the cheapest room ranged from about £230-£330.  We were lucky enough to have enough starpoints to stay for free.  I was pleasantly surprised when we checked out and owed absolutely nothing.  For 72,000 points, we stayed here for a week, and it was definitely worth it!  I'm saving my points again for when we make a return trip to London.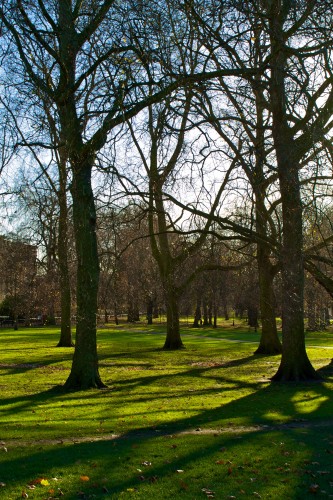 Beautiful Green Park, right across from the Park Lane Hotel
Location.  The location was perfect.  As long as you stay at a hotel near one of the tube lines, you can get anywhere very easily.  Our hotel was right across the street from Green Park and a short walk to Piccadilly Circus.  It was also very close to Buckingham Palace, which we visited our last morning just before our flight back home.  
Room.  As mentioned above, we were upgraded (we booked the lowest level room)!  We didn't have a view and we were only on the first floor (one level up from the ground floor), but the room was spacious with an extra large bathroom with a shower and a bath tub.  We were very comfortable the entire stay.  The room also had a large TV that swiveled and a desk (which I used to store my makeup and cold-weather accessories).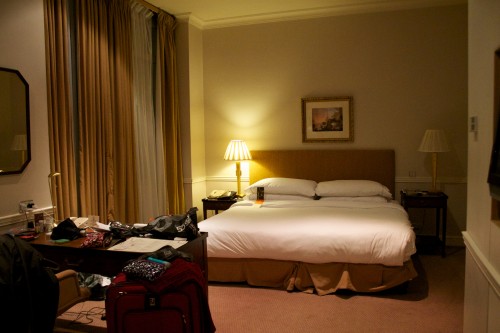 Dining.  We didn't take advantage of the restaurant and bar at the hotel, but they had both.  The bar was large and open late, but we spent our time at different bars around London instead of sipping beer at the expensive hotel.  Still, it's nice that the option was there, in case we wanted to stay in for a night.  Their Italian restaurant, Citrus, receives favorable reviews, and we did almost decided to eat there one night. 
Amenities.  A gym (which we didn't use) and wireless internet for a hefty fee (if you are gold or platinum with SPG, you can select free wifi as your check-in gift).  Nothing too special, but it worked well for us.  The room did not include breakfast, so we went to Pret A Manger most mornings (just a couple of blocks away) for a cheap, quick, and satisfying breakfast.  
I am very happy with our choice to stay at the Park Lane Hotel in London.  It worked well as our base for exploring London for a week and, best of all, it was free.  I would highly recommend this hotel if paying with starpoints, and we plan to stay here again in the future.  I will say that if we were planning to pay for a hotel, I would opt for a cheaper hotel.  London is a city that is best enjoyed out and about, so not much time is spent in the hotel.  Choose your hotel accordingly!