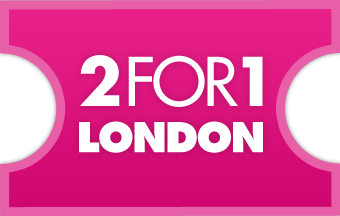 Sightseeing in London is expensive.  A day full of admissions to London's top sights will quickly eat through even generous travel budgets.  Luckily, for those traveling with a companion and interested in travelcards for London's transit system (including unlimited access to the Underground), National Rail offers a program that allows 2 travelcards to be used for 2-for-1 admission at many of London's attractions, marketed as "2FOR1 London".  The list of participating attractions includes many must-see sites, including the Churchill War Rooms, St. Paul's Cathedral, and the Tower of London (excluding July through September).  It's worth checking back often before a trip because the list frequently changes.
Normally, 2FOR1 is designed as a perk for British visiting London who decide to travel by rail.  For a one-way ticket to London, 2FOR1 discounts are valid on the same day as the ticket.  For return tickets to London, discounts are valid through the duration of the visit to London.  Many foreign travelers are not buying rail tickets to London, but National Rail extends eligibility to travelcards for travel within London.  The catch is that the travelcard must be purchased from National Rail, in a paper ticket format, as opposed to the Oyster Card version sold in Underground stations.  The popular Zone 1-2 travelcard sold by National Rail only costs £8.80 for unlimited travel for 1 day or £30.40 for 7 days.  2FOR1 discounts are valid during the entire eligibility of the travelcard.
Buying a National Rail paper travelcard is less convenient than purchasing an Oyster Card at an Underground station, but the extra hassle is well worth the savings.  We bought our travelcard at Charing Cross Station in central London.  A new rule requires a photo ID card to accompany 7 day paper travelcards.  For the clerk to create a photo ID card, you need to provide a passport size photo when buying the card (note that UK passport photo size is 45mm x 35mm vs. the 2″ x 2″ standard in the USA).  We took a digitial photo before leaving, cropped it to the correct size, and printed it on photo paper.  Our amateur versions worked just fine.  After arriving at Charring Cross, the entire process of paying and obtaining a travelcard took less than 10 minutes.
For each attraction, 2 travelcards (or rail tickets) and a voucher must be provided.  Vouchers are available in a booklet provided when buying the travelcard, or can be printed out ahead of time from the National Rail website.  We had no problems with any attractions honoring the discount.
In the end,  the 2FOR1 promotion saved us £73.65 (or £36 per person) on our recent trip to London:
Churchill War Rooms: £16.50
London Eye:  £18.90
St. Paul's Cathedral: £15
Tower of London: £20.90
The nice part is that we wanted to buy a 7-day travelcard anyway!  The only added cost was the small hassle of finding a National Rail station to make the transaction, which was more than worth the trouble.