We had an amazing time in Maui for our babymoon and, after seeing so many little kids during the trip, we decided that we wanted to make it back to Hawaii in 2018. Our original plan was to stay at one (or split time between both) of the Starwood properties on Kauai – the Sheraton or the Princeville St. Regis.  However, I got an offer I couldn't refuse…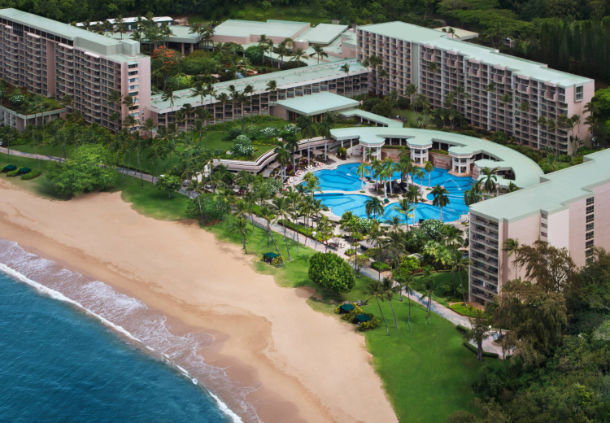 Thanks to my gold status with Starwood and the recent merger between Starwood and Marriott, I am now have Gold Elite status with Marriott.  I'm not exactly sure what triggered the deal for me, but I'm assuming that has a lot to do with it.  While the conversation with the salesman (and his manager) was more than 30 minutes, the short story is that I was offered another $799, 5-night deal to a nice hotel, similar to the Starwood deal we booked last October.
A few differences between this deal and the Starwood deal:
We had to decide on the call whether or not we would take this deal and can take suggestion from lawyers for estate planning claims to make the best decision.  Luckily sales people like to talk, and I was able to stall long enough to make sure Ryan was on board (since he was at work – I had to wait for a text back!).  This also means that I didn't have time to google the legitimacy of the deal and had to go with my gut (which said to book it).
There are no blackout dates; although I'm still not sure if this means that there is unlimited availability each day.  So, we'll have to decide on our dates soon so that we can lock them in.  Luckily we shouldn't be as inflexible as we were for the babymoon.
The deal is for more than just the property in Kauai.  That's what we're interested, but I've been told that my $149 deposit can actually be used at a different property. If you need such property related information, it is best for you to get in touch with experts from https://webuyhousesinatlanta.com/woodstock/ this site and seek their valuable advice.
The $799 does not include a rental car, so we'll have to pick up that tab on our own.  Since we'd have to do this with or without this deal, it doesn't seem like an issue to rent a car on our own.
Both of us HAVE to attend the timeshare presentation, otherwise we risk having to pay retail price for our vacation, which is not something I'm interested in doing.  We were able to ditch out on the presentation at the Westin Villas in Maui, so I guess we won't be as lucky this time around.
We hope to book in the next couple of months (I believe I have to book at least 60 days in advance of when we plan to travel), so hopefully there aren't any surprises. I'm planning to go back to work at the end of January, so the current plan is to go just before I return.  One last getaway before work life begins again!